Hi all, I'm posting a card I have done as guest designer for Fairy Fun Fridays. The blog uses Prairy Fairy images, which if you haven't allready heard of is defo worth a look. Theres not endless amounts of images, but theres certainly enough & I think thats better sometimes cause you can take it all in! They are digi-images so are re-siable, really well drawn & have character & charm. along with some really pretty fairy & mystical images, theres caracatures, animals & a charming young lady named Gillian. Why not head on over to the
on-line store
& check it out now.
Anyway on to my card 'Chick' I chose 'Cute Chicks' for my image & as I still don't have Copics (yet but do have some on thier way to me as we speak!) I choose to paper piece, which I do enjoy doing from time to time anyway & am actaully quite pleased with how its turned out...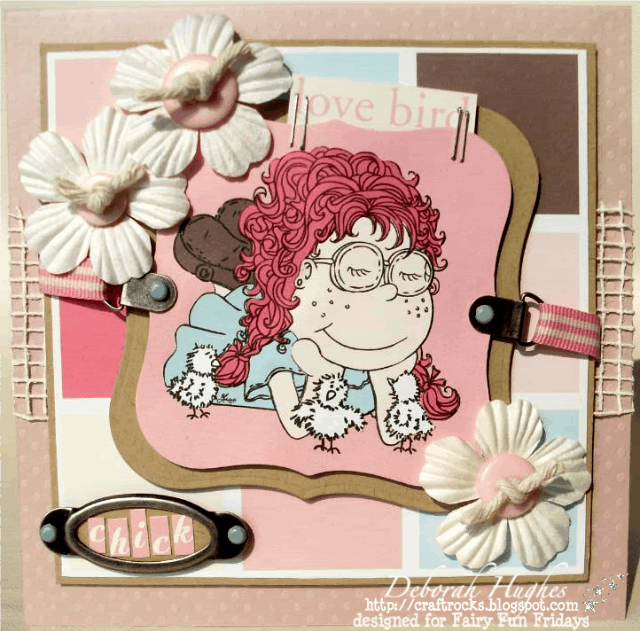 ..The great cardstock is double dot by Bo Bunny & some kraft card-stock too. The yummy papers are by Sei & I THINK the collection is 'Sweetie' but don't quote me & if anyone knows otherwise - please feel free to correct me! Anyhow in the collection you get loads of patterns & also some plain pieces in the same colour scheme, so it makes them perfect for paper-piecing when you don't want any patterns on your image...
...Most of the time when I paper piece, I do kind of a cross between decopage & paper piecing. As in when you paper-piece you cut out each section & arrange in 1 layer on top of the whole image so all the cut edges meat. However I will cut beyond the section if the image calls for it & layer sections so theres bits tucking in underneath, then on top. Sometimes I'll then use foam pads or silicone for extra dimention, but I've left this one flat...
The flowers are prima, with papermania buttons tied with twine. I have added a mesh strip of jute under the main square & used We are Memory Keepers metal hardware tin pieces in pewter, but changed the brads to blue, tied with ribbon & tucked under. The love bird sentiment is cut from patterned paper from the collection & stapled in place...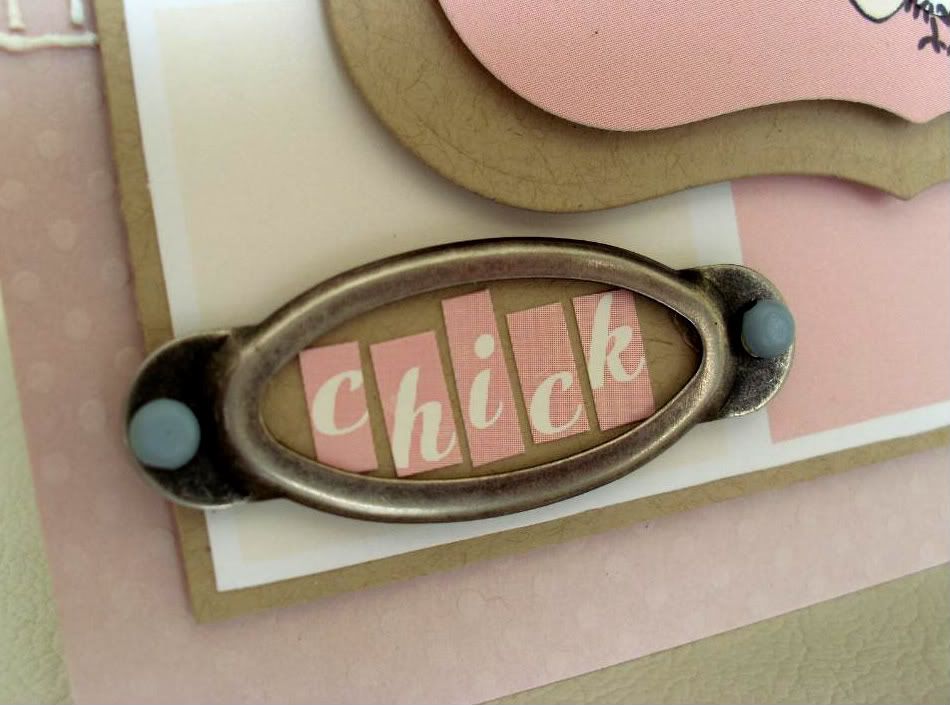 ...The second sentiment has been added on another piece from the metal hardware set & mini-alphas are from a different collection by Echo Park.