Hi all & welcome to another
Wags 'n' Whiskars
challenge, where the theme this fortnight is 'Summertime'. I lvoe this Wag image & have been dying to use it, suits the challenge too! Don't forget to use the link to check out the rest of the design teams work which is just fab as always. Also you can purchase any of the Wags images
here.
I've used 'Picnic with a Friend' & heres what I did with it...
I went for a Clean & Simple style, which I don't do very often & whilst its not my preffered style (more of a shabby girl) I do really enjoy doing these kind of makes & am really pleased with how its turned out - its just that, somehow I don't really recognise it as being mine if you know what I mean?
Anywho The scrummy papers & stickers are by Echo Park, the swirl die is a Magnolia Doo Hickey & the edge punch Martha Stewart Doily. Oh & the scrummy card-stock is Bo Bunny double dot card-stock, which I have to say...luvin at the mo! Image has been coloured with Copics, see below for exact colours...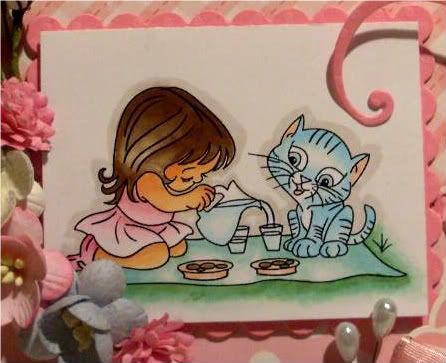 COPICS:
Skin: R000, E00, E11, E43
Hair: E43, E57, E47
Girls dress & Shoes: RV000, R81, RV34
Pussy Cat: B000, B02
Cats ears, tongue & plates:
Picnic blanket: BG000, BG10, BG15
Grass: G000, G21, YG03
Jug, water & glasses: B000, B32
Shaddow outline: W-1
I'd like to enter into the following challenges:
...'Sugar & Spice' by The Searchers. 1963 was the year I think..don't quote me though!