Hey all, I've been playing with my new Belles & Whistles stamps the past few days, & have 2 great makes to show for it! I'm so pleased with both of them, pop back tomorrow to see the other. LOVE my B&W stamps & these new ones (even though they're not new releases) are my 2 fave Elisabeth Bell images at the mo, probably cause there mine & there new like! Also I wanted to enter the current Belles & Whistles challenge with my new images which is 'Pins & Pearls' so I decided to combine the 2 elements & make my own handmade pearl bead pin...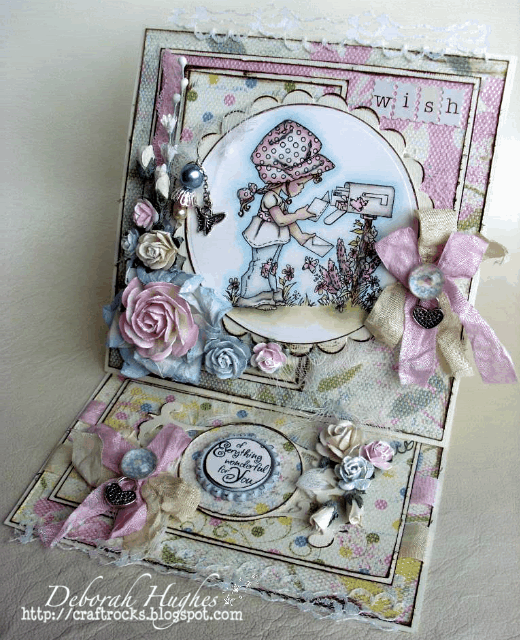 ...I went for an easel as I've not made one for ages & its one of my regulars usually! I forgot just how much the added dimention brought to the design & how much more scope the extra space gives you. I feel a few easels coming on for my next makes! The lovely lace on the borders is from my local haberdashery. Heres a closer look...
...This ever so pretty little stunner of an image is 'Happy Mail' drawn by one of my all time fave stamp artists Elisabeth Bell.Papers are some old Daisy D's I've had for ages, don't know how they've lasted so long actually cause I love them!...
...I've used my bottle tops & LOTV sentiment stamps to create a circular sentiment center piece. Top has been hammered & sprayed white, then sentiment added to centre, the top frames the sentiment beautifully. The tag is a Spellbinders die cut from lovely Vanilla bazzil card-stock & again creates a lovely ornate frame...
...Flowers are from Wild Orchid Crafts. Notice the handmade pin above with butterfly charm. I added this as the pins & pearls element for the Belles & Whistles challenge...