Hi all - todays post is my second for Just Magnolia & they have a great sketch challenge this week for you. Must also appologise for my post being a few days late as the internet has been down here & not been able to get on at all. Anyhow back to the challenge - you really must pop over to the
Just Magnolia
blog as theres some fab interperatations of the sketch waiting to inspire you, then we'd love to see your version so don't forget to enter using the linky. Here's what I did...

...I've worked in my usual shabby style in a lovely soft blue/green & cream from a simply beautiful 6x6 Prima paper pad 'Madaline' & added some cheese cloth to give a soft, whimsy effect. The die is by Tim Holtz Alterations & is from the movers & shapers range 'mini bird & cage die'. I've cut 2 cages 1 from kraft & 1 from white bazzil & shaped the top piece before layering together, the bird is cut from patterned paper - all edges have been inked with Walnut Satin & blending tool then I finished the bird with a tiny crystal for an eye & sat her on Tildas hand...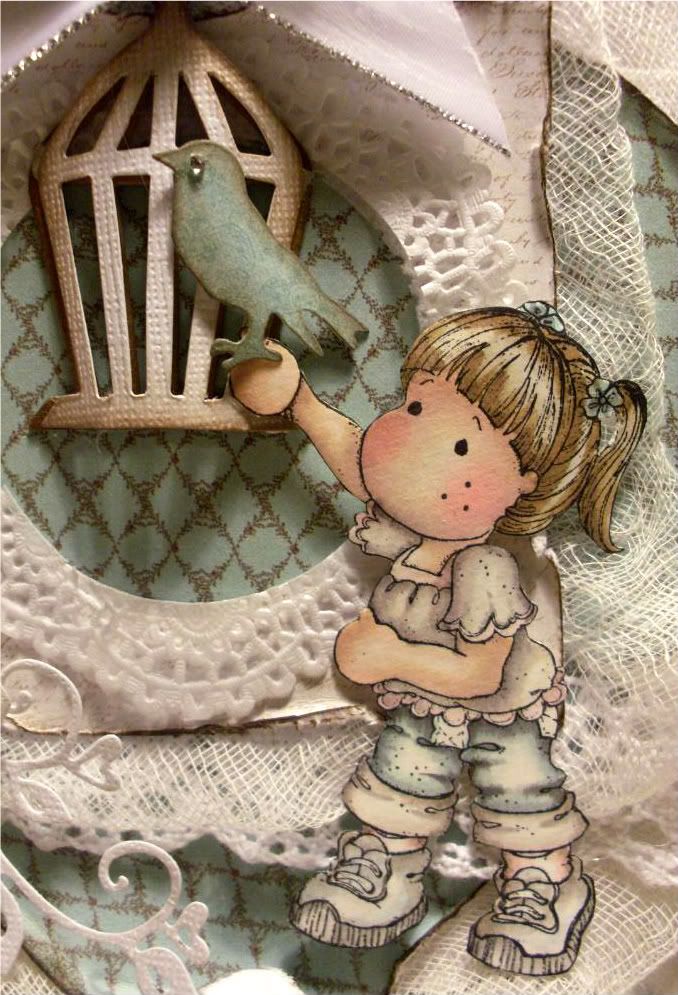 ...This is 'Tilda with Kite' from the Sweet Rainbow '11 collection. As you can see I've simply snipped off the kite section & had Tilda attending to her bird cage instead. Thats one of the reasons why I just love Magnolia images - there just so versatile & you can get so much milage & endless different uses from 1 stamp. Image has been colourewd with Distress Inks as usual..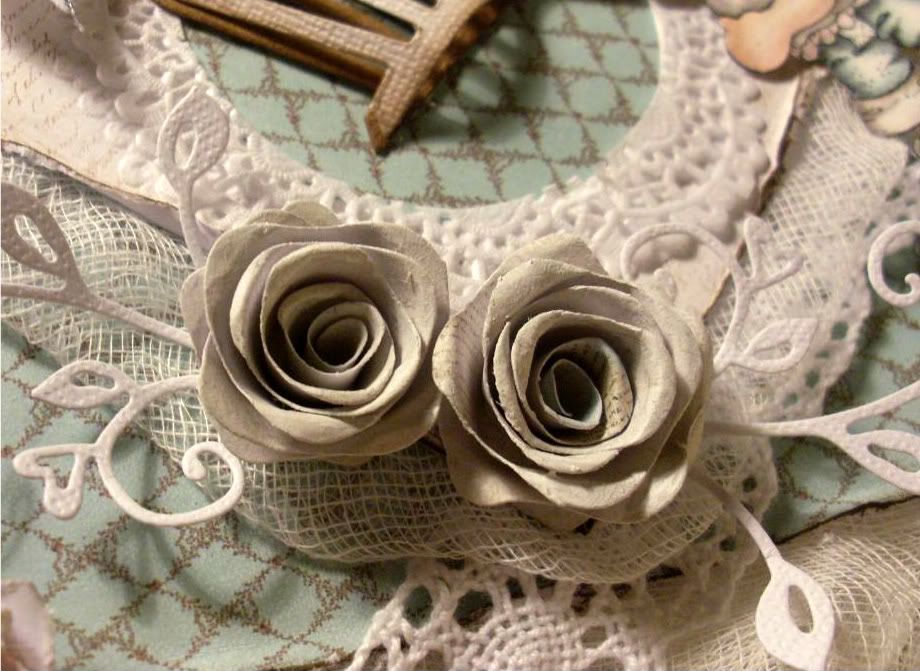 My 2 FAVE dies at the mo (with the bird & cage above coming a close 3rd!) are these 2 here; Marriane Design spiral roses cut from paper with shaped edges & Magnolia Doo Hickey heart swirl branch cut from white Bazzil - don't the 2 look great together?!!
I'd like to enter into the following challenges...