Hi all, todays post (which actually should have been Monday, but I scheduled it & once again blogger didn't post it for me, ordinarily I'd check as I have a lot of trouble with this but someone showed me how to do it & I even did a test run that worked, but for some reason it didn't post the real thing.)anyhow as I was saying...
Todays post is for Karber digital images, who I'm very proud to be guest designing for during the month of August. I love finding new products I've never heard of, so when I came across this company I instantly loved there style of images, In particular my fave digis are these trendy 'Deny' characters. The one I've used for this post is called 'Pet Denny' & can be purchased along with a whole host of other cuties
here
. Also you can hop over to their blog to for inspiration on how to use these great little images
here.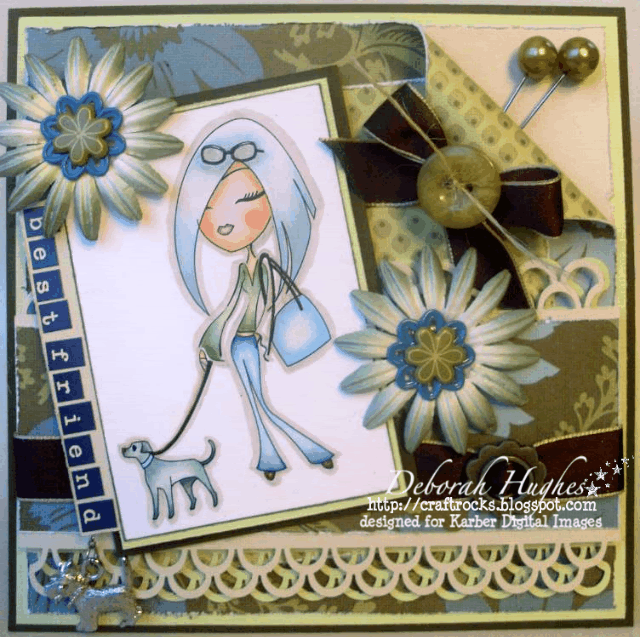 ...The papers are K&Co. Amy Butler collection & are just perfect for peeling corners back like this to reveal the pattern underneath. I've also distressed the edges a little with a craft knife. The punched detail is a Martha Stewart punch around the page, Double Loops. The ribbon has actually been re-cycled off some box or ohter possibly some bath product! The 'Best Friend sentiment has been spelled out in Cosmo Cricket mini-alphas & I've made a tab style base & attached behind the image. Flowers are green blooms from Wild Orchid Crafts & the cool little centers are HOTP flower brads & ornate flower centers that come in little sets. Notice the cute little dog charm that swings from under the image like its on a lead!...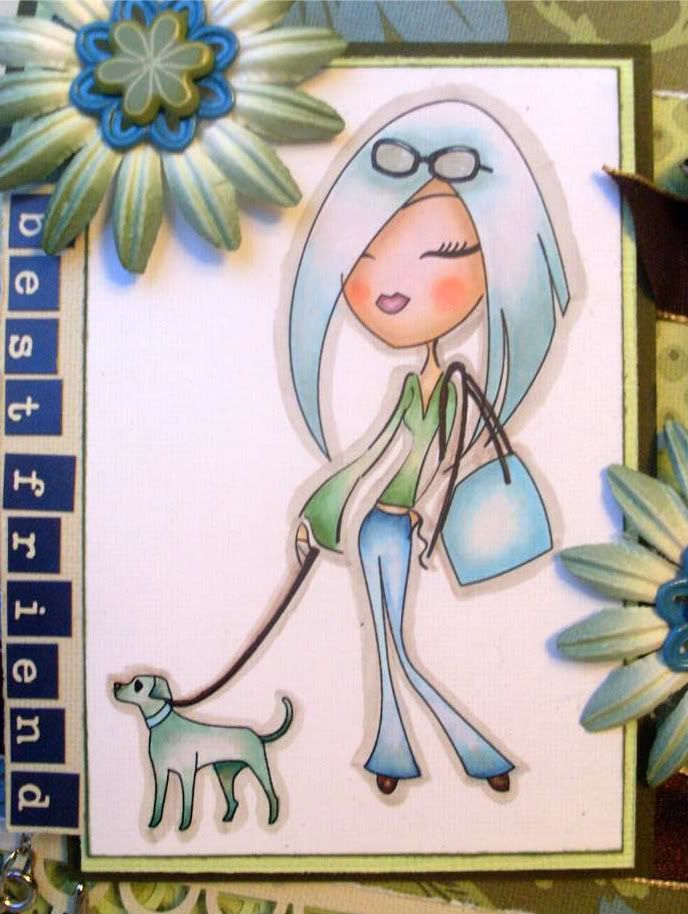 COPICS:
Skin: R000, E53
Cheecks: R20
Lips: Rv95
Hair: B000, BG10
Top: G000, G21
Jeans: B000, B12, B95
Bag & dog collar: B000, B12
Shoes, strap/lead detail & shades: E47
Dog: BG000, BG10, W-1
Shading & Outline: W-1
I've tucked these stunning Olive coloured pins behind the fold & secured with a bow & finished with a Stampin' Up button tied with twine.