Hi all! & today I'm really excited to be posting for a new design team I'm on at
Just Magnolia
. I love my Magnolia stamps at the moment - their collections seem to be going from strength to strength & each one I love more then the last! Can't wait to see what they'll bring out for 2012 & the Just Magnolia blog showcases this brand excellently. So be sure to pop over using the link above & see the creations from the rest of the talented design team...
...This weeks fab challenge is to use 'White plus one other colour' & each design team member seems to have chosen a different colour to work with - so there's a great collection of inspiration just waiting for you! Let's hope it gets your creative juices flowing...what colour will you choose? When you've decided be sure to show us your entry to be in with a chance of winning one of 2 great prizes including a £10.00 voucher from Dies to Die for, or a fab offering from Letraset who make Pro-Markers. So without further ado, here's my card...
...I chose purple (obviously!) & this was actually a great challenge for me as I use a lot of white on my cards anyway. I went for my usual shabby style & winter theme. The beautiful papers are also by Magnolia from the Christmas Dreams collection. The edges have been inked with Walnut Satin then distressewd with a craft knife...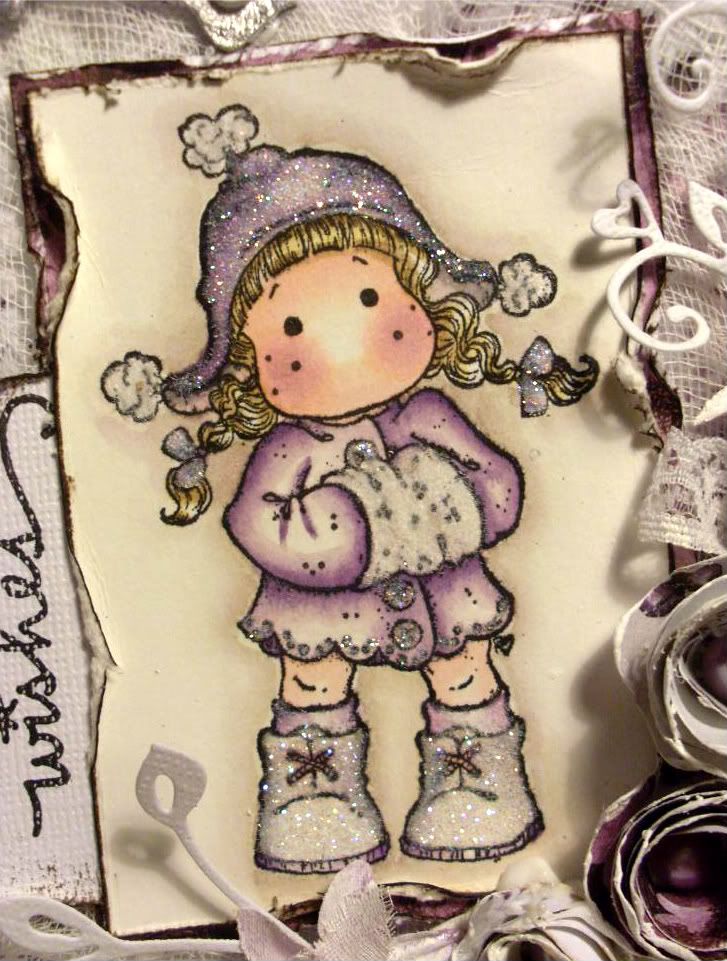 ...This gorgeous little cutie is 'Winter Tilda' from the new 'Christmas Dreams '11' collection & I think she looks great in these vibrant shades of plumy purple! I've coloured her as usual with Distress Inks, then highlighted with Glamour Dust on the hat & boots & white flock on the furry bits!...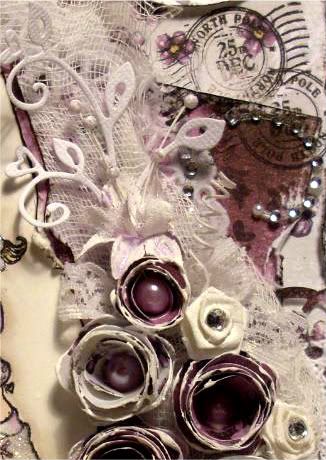 ...Lovin' my new Marriane Design die that makes these great little spiral flowers. I used to make them myself, but with the die you tend to get a much more professional looking finish. I've also added some 8ml lilac purles to the centers & distressed with white paint. The small white roses are fabric & have been set with real Sworofski crystals. The magnolia die is Heart Swirl Branch, I've cut from white Bazzil card-stock & I think it's by far the prettiest swirl die on the market at the mo - lovin' it!!! I've also added a Stamps Away postage X-mas stamp...