Morning crafters! & I must start with a quick appology about this post as its late. First of all I got my dates mixed up, but then I found out my laptops got loads of viruses so am now on a really slow old computer which is not only driving me mad, but won't post or comment most of the time. So I'm trying to work through it - but just being a total nightmare! -I don't know if its not one thing - its something else!!!
Anyhow onto my second post for the fabulous Wags 'n' Whiskars design team where the challenge this time is 'Stitching' so go check out the rest of the DT if you haven;t allready come from there - there's some fab makes for inspiration & you can then upload your entry if you fancy playing along by clicking
here
.
For my card I used 'Iris' fairy whos a real stunner & I've loved working with her...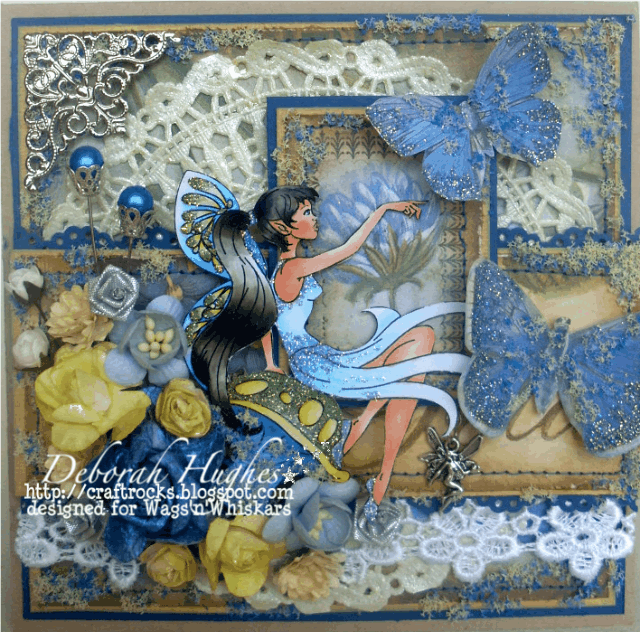 ...The papers are by K & Co. I'm not sure fo the collection as I've dug them out of my stash that I've had for AGES!!! I've inked the edges of the papers & card-stock with Old Paper & Walnut Satin Distress Inks, then used a craft knife to distress the edges of the papers. They've then been machine stitched with navy cotton to the card-stock. I was so excited when this challenge came up as I've had a little sewing machine there for litterally years & never used it! But when I see machine stitching on cards I just LOVE it! But have had a go before & could never get the hang of it. Well this certainly isn't perfect, but is definately my best attempt & now I've kind of mastered how to use the machine it'll defo be a regular from now on!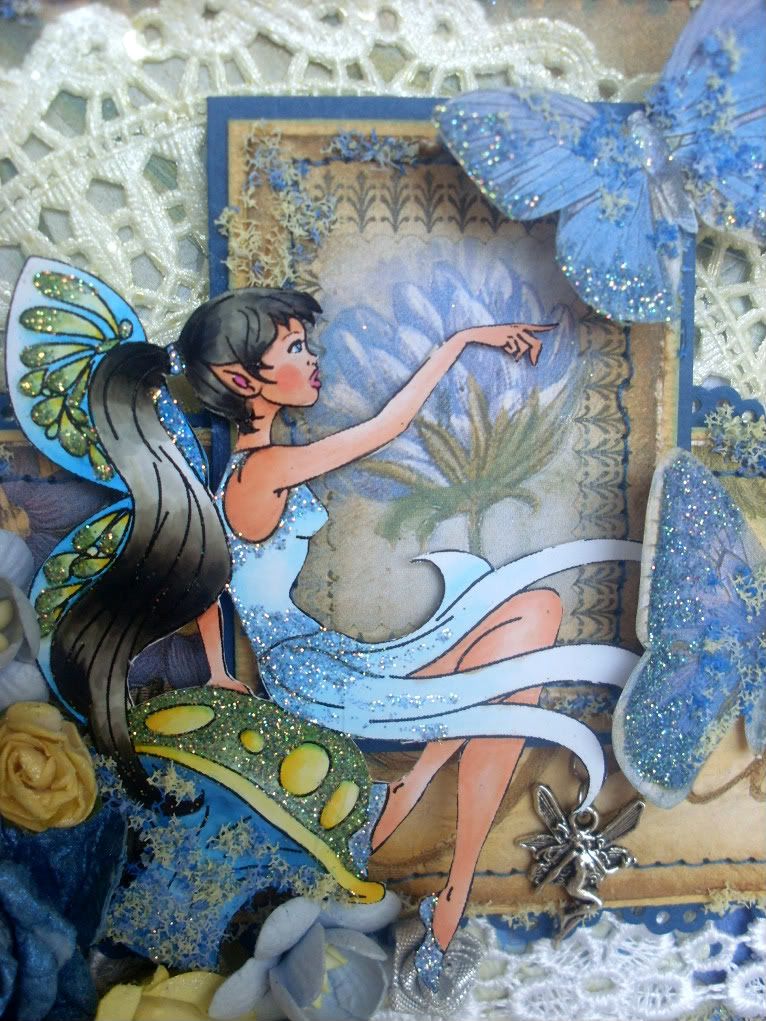 COPICS:
Skin - E00, E11
Hair - W-1, W-5, 100
Lips & inner ear - RV34
Dress & Shoes - B000, B02
Wings (outer part) - B000, B02, B05
Wings (inner details) - G000, G21, YG03, G99 fading to Y000, Y15
Mushroom top - G000, G21, YG03, G99
Mushroom spots - Y000, Y11, Y15
Mushroom base - B000, B02, B05, B39
Highlighted with blue & green Art Glitter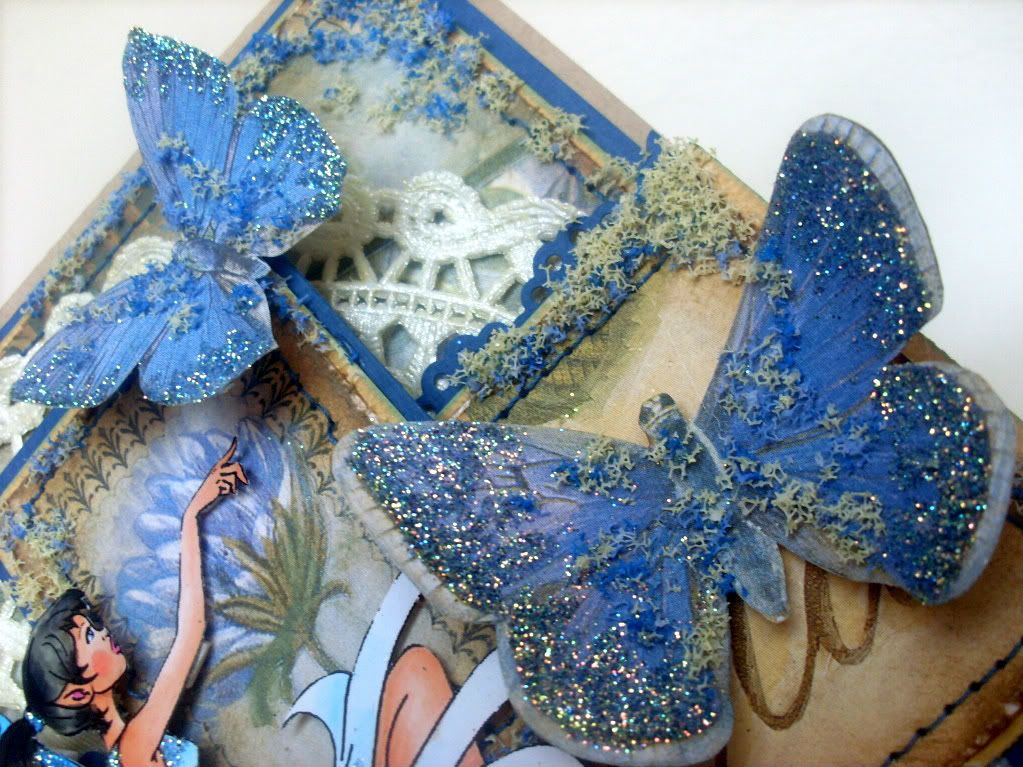 ...The butterflies have been cut from the patterned paper, then highlighted with glitter & Flower Soft - which I think is becoming a firm favourite at the mo! - I don't believe I've had it sat there for months after winning it in a prize & never used it till the other week. Now I can't stop - lovin it!!! Also used it on the main images & around the edges & corners of the papers, which is actually where I'm likin it the most! - I lvoe that soft, but distressed/ shabby feel it gives. I've coloured the pins with B05 copic markers as they're actually pink! the lace is Prima I think & the flowers are from Wild Orchid Crafts & I've painted the deep blue one with mica powder mixed with a littel water for an intense colour & sprayed the roses with yellow mica mists...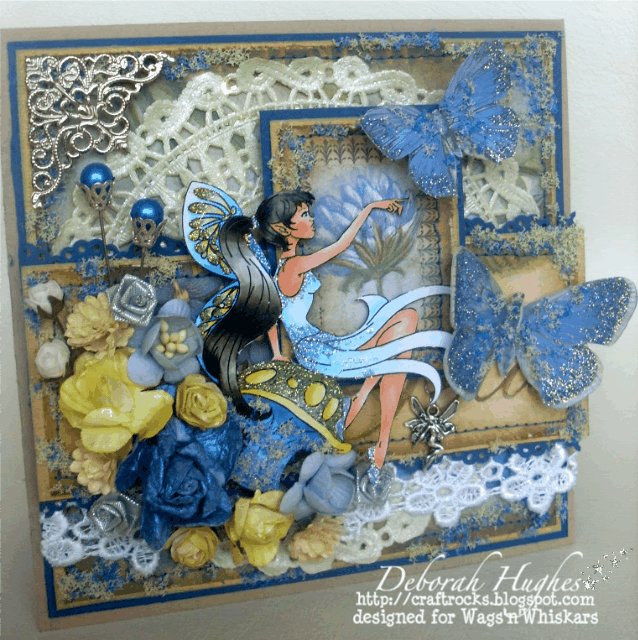 I'd like to enter into the following challenges: