Afternoon all! - I have another topper for you today, using my brand new Sugar Nellie stamp. LOVE this range (home grown) & have fancied giving them a go for a while. The detail on the image is amazing & the quality of the drawing is just superb. Also you didn't see many head shot stamps before these came out - & I do like to try things that are different!!! Soooo anyhow I was a little worried I might struggle with the colouring at first - as the stamp is shaded, but they're suprisingly eady to work with & I LOVE the results!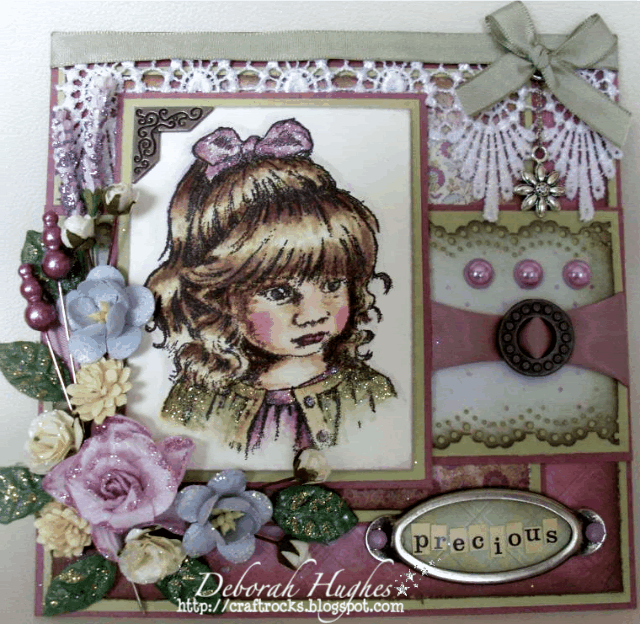 ...The top of the piece has beautiful white lace & taffeta ribbon in sage to match colouring. Finished with a bow holding lovely silver flower charm on chain. Metal pieces are from my trusty We are Memory Keepers metal hardware tin set (again) did I mention I LOVE these!!! - Spot the card without them on my blog! haha. DI colours listed below...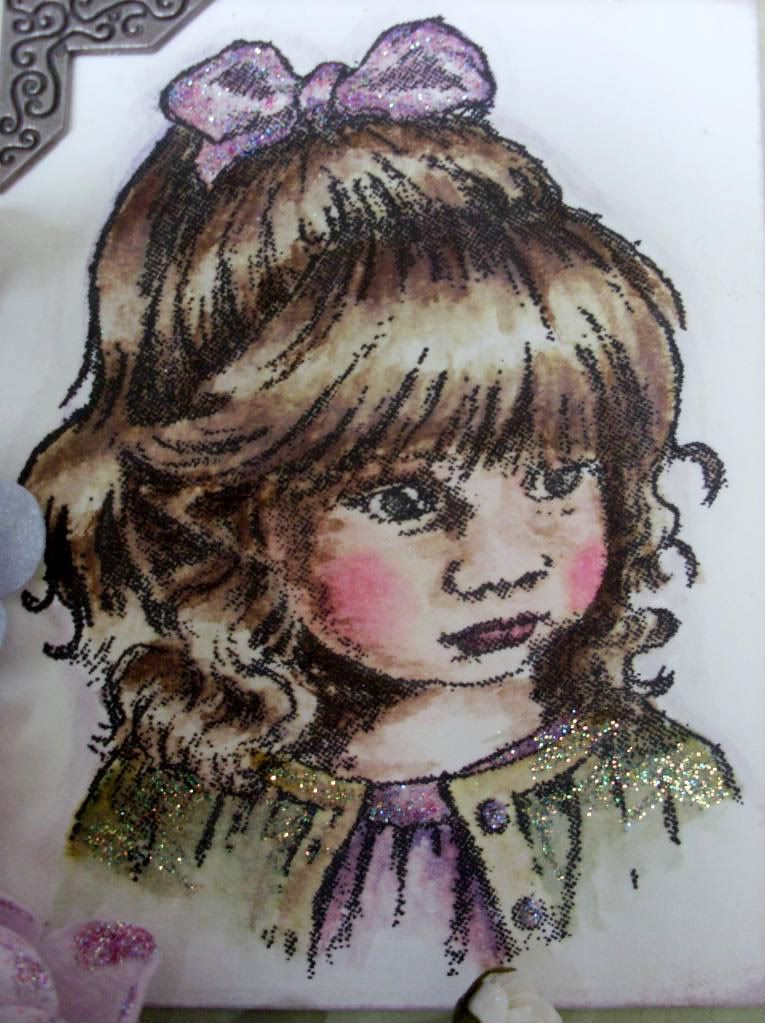 Distress Inks:
Skin - Tattered Rose, Old Paper
Cheeks - Fired Brick
Hair - Old Paper, Frayed Burlap, Brushed Cordroy, Walnut Satin
Cardigan - Bundled Sage with touch of Shabby Shutters
Cardigan edge - Shabby Shutters with touch of Bundled Sage
Top & Hair Bow - Spun Sugar, Milled Lavender, Dusty Concord
Shading - Frayed Burlap, Brushed Cordroy
Art Glitter highlights in various shades
..Flowers mostly from Wild Orchid Crafts & local Country Baskets. Mini-alphas by Cosmo Cricket...
Pins have been coloured with nail varnish - which is a great tip to make your existing pins match anything!!!
I'd like to enter into the following challenges: