Hey there - got a little topper today for my post. I've used one of my new Sugar Nellie stamps 'Fragile Beauty' from the Home Grown ragne & LOVE IT! - will see much ink! - V. adorable! The beautiful floral paper is by K & Co. I got 150 12x12's I think for a very cheep price ages & ages ago & haven't used them that much, I re-discovered them the other day hiding underneath my newer papers (I have a real soft spot for my designer papers & am constantly buying more that I just absolutely NEED!!!) So when I tidy them out - I usually find something I'd forgotton about! The underneath piece is actually a plainer patteren from a Basic Grey paper pad, which I have sprayed with pink & lilac mica mists then dry brushed with white acrylic paint...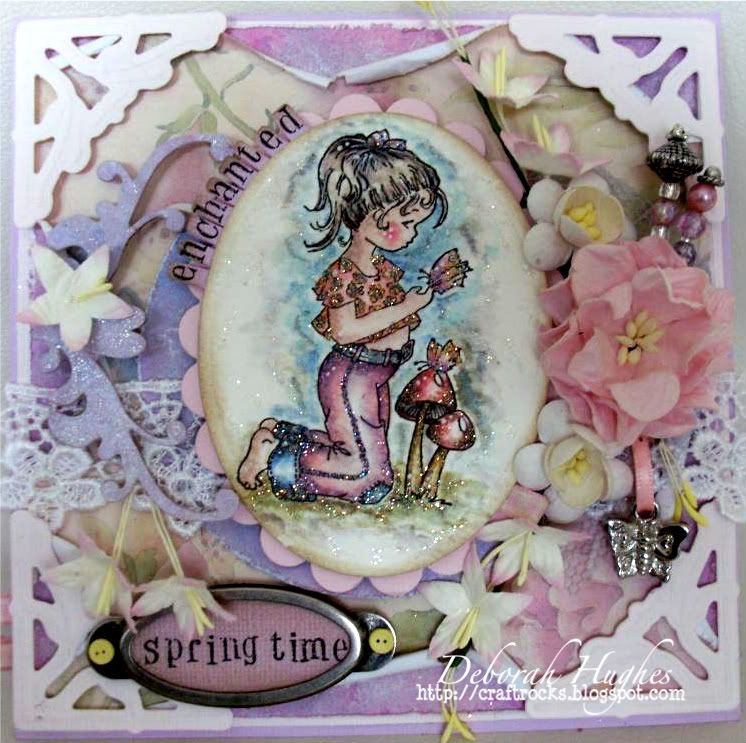 ... The chipboard swirl has been paited with acrylic, sprayed with micas, then finished with Crackle Paint. The pretty lace is Prima I think & the fab chipboard swirl I think she looks great coloured it these slightly soft muted colours which I have used my DI's for...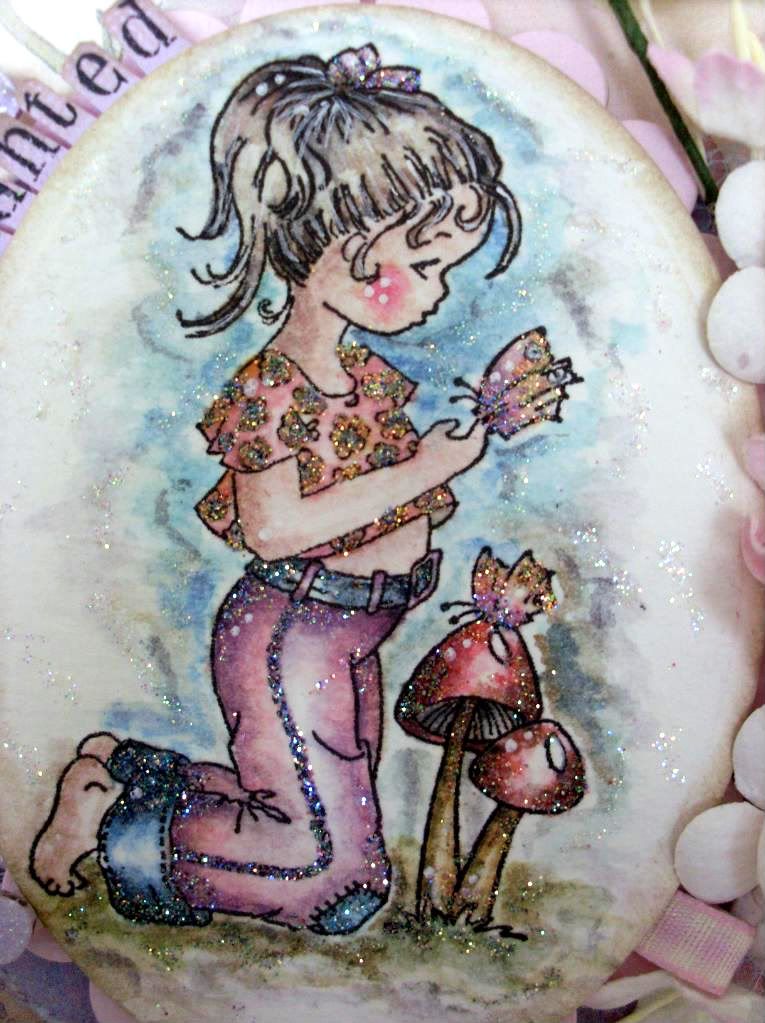 Distress Inks's:
Skin - Tattered Rose
Cheeks - Fired Brick
Hair - Old Paper, Pumice Stone, Frayed Burlap, Weathered Wood
Top - Tattered Rose, Spun Sugar
Flowers on top - Scattered Straw, Tumbled Glass
Jeans & Hair bow- Spun Sugar, Mulled Lavender, Dusty Concord
Turn-ups, belt & Patch - Tumbled Glass, Faded Jeans
Butterflies - Spun Sugar, Scattered Straw, Worn Lipstick, Dusty Concord
Mushroom tops - Spun Sugar, Worm Lipstick, Barn Door, Fired Brick
Mushroom stalks - Scattered Straw, Old Paper, Frayed Burlap
Grass - Shabby Shutters, Bundled Sage, Pumice Stone, Old Paper
Sky - Tumbled Glass, Shabby Shutters, Old Paper, Pumice Stone, Frayed Burlap
Shading - Pumice Stone, Frayed Burlap
Highlighted with Lily White Doodle Bug design glitter & various shades of Art Glitter
...Corners die-cut from pink-card-stock with Marriane Designs die. Flowers by Wild Orchid Crafts, charm from stash...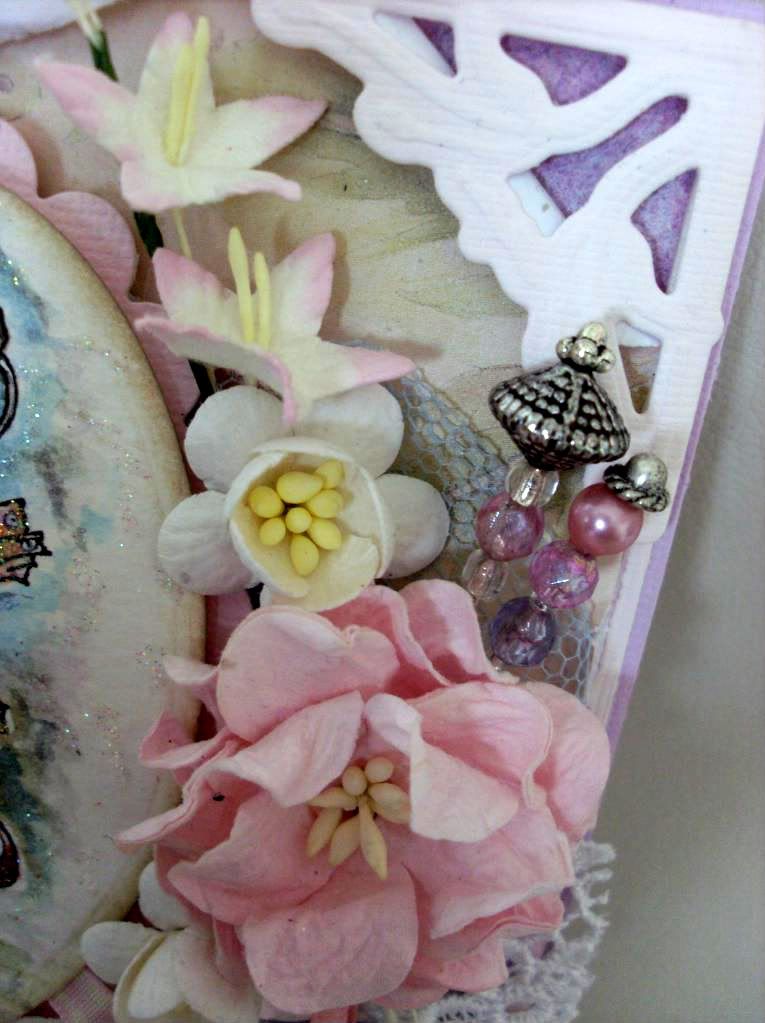 ...I made the pins using glass, pearl & metal beads. The pewter peice is from my trusty We are Memory Keepers metal hardware tin set & I've changed the brads to yellow button ones. I've used Studio G alphabet stamps to spell 'Spring time' . Also used above for 'enchanted' which have been individually cut & adhered behind image...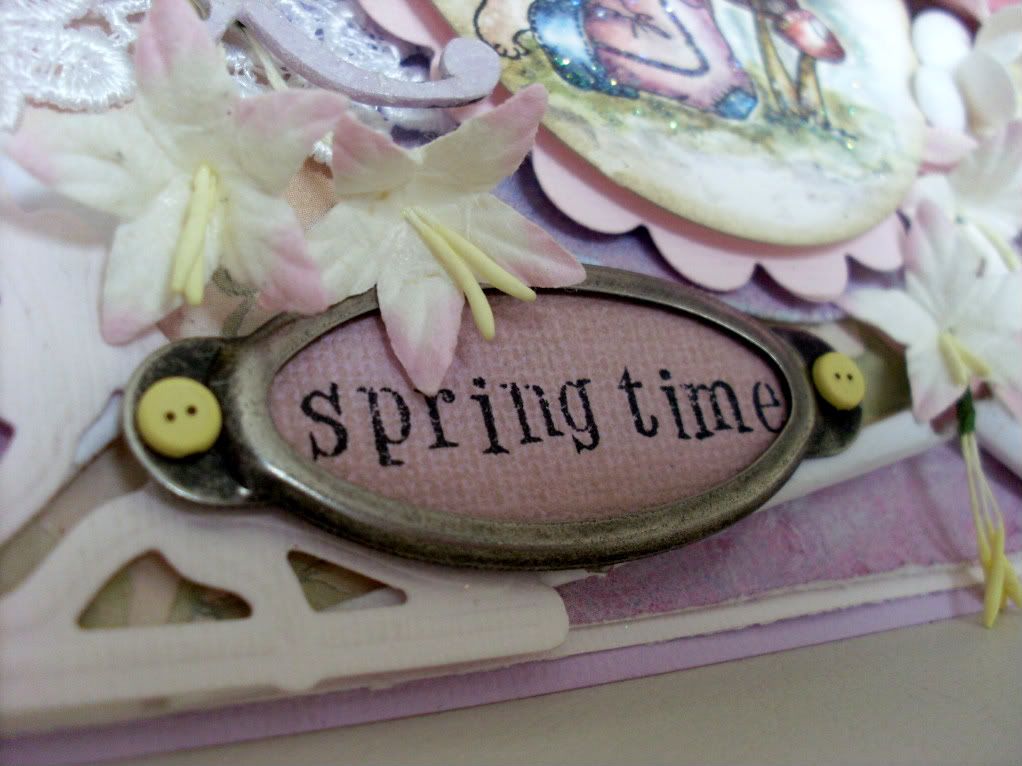 I would like to enter into the following challenges: