Hi All, hope you's all ok! Today I've got another easel card. I didn't really used to be into these all that much, but now since I've been doing my blog, for some reason - I'm well into them! - That extra little bit gives you so much more scope for extra space to add to the design. Usually I only do easel cards for special makes & in a shabby, vintage or pretty style/look. But this is completely different its bright, cheerful & cute & don't think that usually calls for an easel type card, so I wasn't sure how I'd get on - but now it done I actually like it & it keeps growing on me!
The fabulous papers are Nitwits Cupcake fat quater bundle & the fabby little image is by talented artist Rachelle-Anne-Miller. LOVE her style & don't think they're used enough as you don't see them as much as some of the other companies, so if you've never come across her designs - they're defo worth checking out. I think they are made by Stampavie...
...Image has been coloured with Distress Inks & highlighted with Doodle Bug Design Sugar Coating...
Distress Inks:
Skin - Tattered Rose
Cheeks - Worn Lipstick & Fired Brick
Dress, hat & outer flowers- Scattered Straw & Mustard Seed
Bottom of dress, heart, hair, details on hat & inner flowers - Spun Sugar & Worn Lipstick
Grass - Shabby Shitters
Outline/ Sky - Tumbled Glass
Basket - Old Paper & Frayed Burlap
Flowers in basket - Spun Sugar, Worn Lipstick, Scattered Straw, Mustard Seed, Shabby Shutters
Highlights: White Sakura pen & yellow & pink Doodle Bug glitter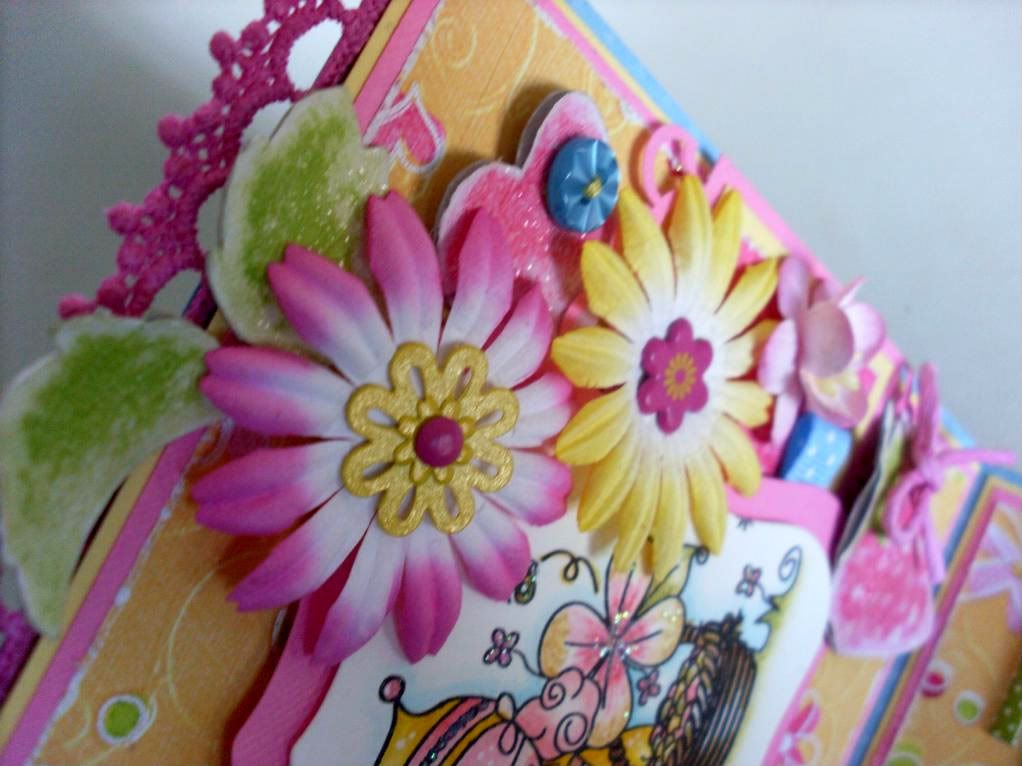 ...The leaves, strawberry & 'Sweet' sentiment tag have been printed from the Nitwits collection, adhered to grunge paper, cut out, shaped & distressed with sand paper, then finished with Crackle paint. The edges of the paper have been distressed to match. Flowers from Wild Orchid Crafts. Brads & metal pieces from HOTP. Cerise lace by Doodle Bud Design & rasperry Pom pom ribbon by Prima...
... Cute little Alphabet Letters by Making Memories, button by Stampin up sewed on with embroidery thread...