Hey there, todays post is for Card Makin' Mamas, where there challenge this forstnight is all about 'Food & Drink'. So you could interperate it any way you like. Actually I've been working on a really special box of cupcakes for my Auntie who's recently had an operation to remove a lump they found, which turned out to be cancerous so she'll have to have chemo as a precaution. The prognocis is good (well as good as it can be in these circumstances) so she should be fine. But I wanted to give her something special, so I was going to use that for this challenge as it would have been perfect containing an actual 'Food!', however when the sponser gave us this fab image to work with- I decided it wasn't really right for the shabby chique style & the Magnolia image I wanted to use. But just mentioning it to give you some ideas of what could be done for the challenge, & also to illustrate just how much scope it's got.
Also be sure to pop over to the
Card Makin' Mama's
blog to see how the rest of the design team has used the image, there's some fab makes & be sure to enter your 'Food & Drink' themed creations - we can't wait to see what you do! Anyhow withou further ado, onto my card...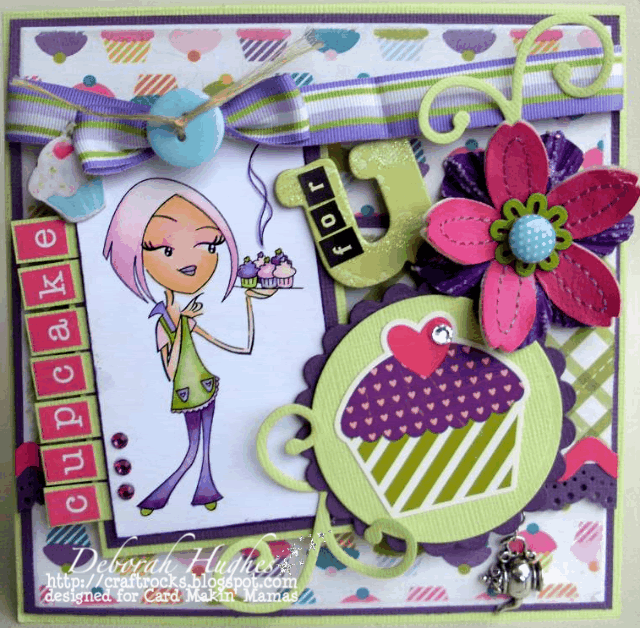 The ever so cute papers are the 'Little Girl' 12x12 collection by Echo Park. I usually take ages deciding which papers to use for a challenge, or with a certain image, however I immediately knew I just HAD to use these fab cupcake papers with this fab cupcake image! The big Cupcake sticker mounted on the Spellbinders circles & scalloped circle dies is also from the collection. The little cupcake is actually from a Nitwits fat quater bundle called...yeah, you guessed it...'Cupcake!' I was experimenting a while back with digi printouts on grungeboard, shaping & distressing them & covering with Glossy Accents & had this little fellow left over & he kind of matched...so on he went!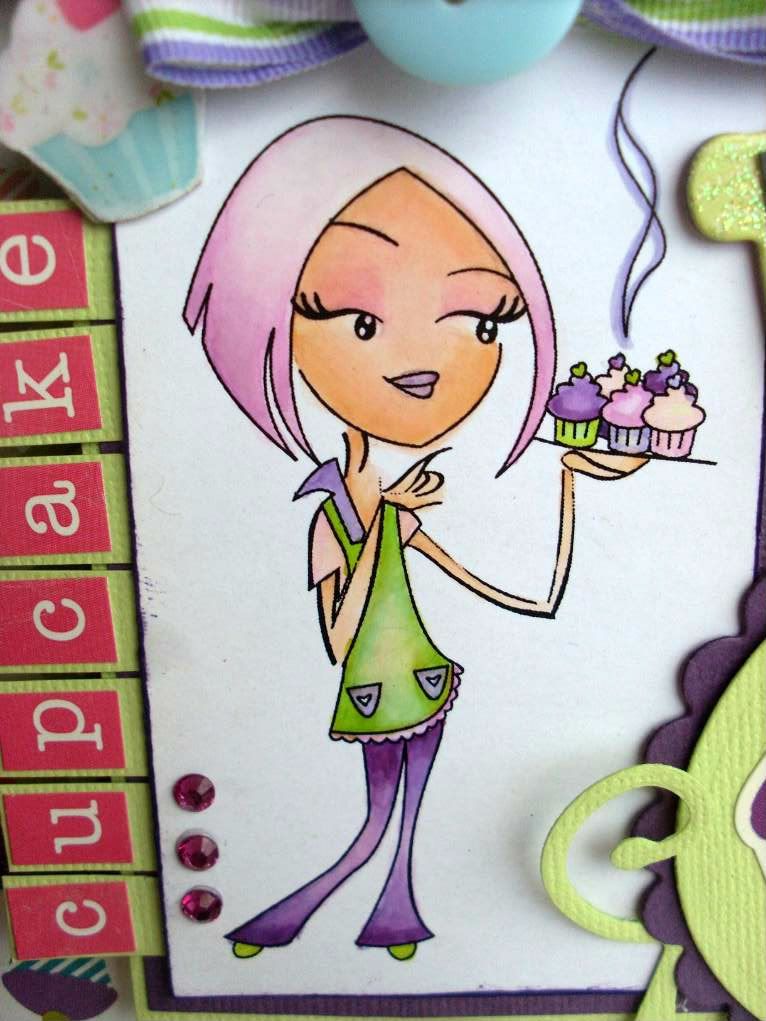 COPICS:
Skin: R000, E53
Cheecks: R20
Hair & trim: V000, V01
Top & shoes: G000, G21, YG23
Pockets & collar: BV00, V06
Pants: V00, V06
Notice the lovely leather effect cerise pink flower. That was actually from a prize I won for a small magazine competition when I first started making cards nearly 4 years ago. I hadn't been doing it long at the time & it was the very first comp I won, I totally remember how it felt to win & how over the moon I was with the prize, which was only a small prize really, but it just meant so much to me (bless!). Isn't it funny how the smallest of items can really take you back?!!The die-cut swirls are Marriane design & the striped ribbon is doodlebug. The alpha letters come with the Little Girl collection, I've just stuck them individually onto card & adhered in place down the side of the image - fave little trick of mine there. Also notice the extreemly cute little tea-pot charm which I see about a lot & just LOVE! how adorable? think its the detail on such a small item & how the handle holds the jump ring, just think its really cool!